It is What it is
I'm bringing this back from the dead. As I look around my room, I see a disaster zone. Ground zero. Like a tornado flew in here and destroyed everything. Except, it was never whole to begin with. I was so rushed to move in that I didn't really have time to organize, especially since getting thrown back into school. Or, perhaps, I'm just an unorganized person. I've found...
"One Day, When I'm Rich..."
I've been thinking a lot lately about money. About financing, saving, where I need to spend my money. I use to be so good, like when I got my first job. I used the "envelope method" with microsoft money and anytime I got a paycheck or cash, I'd record it. I was diligent about it. Now you give me a wad of cash, and it disappears.  I've caught myself looking at a lot...
Morning Texts
Texts to my BF at 8 in the morning
Me: Wake up!!!!
BF: K
Me: I love you sleepy butt!
BF: XD
Today's To-Do List
Write blog for intro to drama Get a book for political science Check mail for book for Intro to Journalism Finish coming up with a weekly schedule Add things to to-do list (home, school, other) Read emails Work on Nerdy Show internship project Take medicine Go to work study Eat at some point Take a shower at some point Go to sleep at some point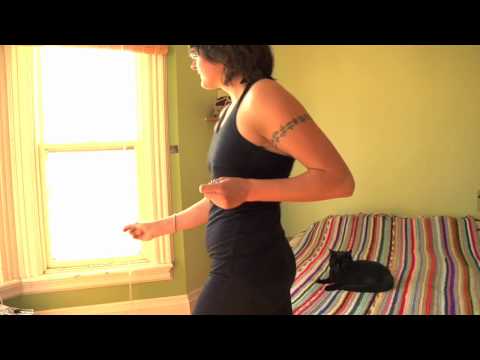 A Jar of Golfballs
I stole this from Facebook: A professor stood before his philosophy class and had some items in front of him. When the class began, wordlessly, he picked up a very large and empty mayonnaise jar and proceeded to fill it with golf balls. He then asked the students if the jar was full? They agreed that it was. So the professor then picked up a box of pebbles and poured them into the jar. He shook...
A conversation in which I tell a friend a dream I...
Me:
DUDE
I just remembered
you were in my dream last night
Friend:
really?
Me:
yah
it's really weird
so prepare yourself
Friend:
MY BODY IS READY
Me:
I was visiting you or we were at some weird place
and
there was a dog
and I was like, awww, doggie, he's probably lost
Friend:
I LIKE WHERE THIS IS GOING
Me:
so I took him and put him in a room and I was like, I have to go, but I'll be back and we'll find this dog's owner!
and then I came back and I couldn't find the dog
and I looked everywhere and you weren't there
and I finally found you and you were busy and I kept bugging you
and I was like "OMG WHERE'S THE DOG"
and you looked at me all sheepishly
and then you were like "me and my friend got hungry"
and I was like "YOU ATE THE DOG?"
And you were like "YEAH YOU WANT SOME?"
and I was like "NO. OMG. NO. THAT'S SICK. WHY WOULD YOU EAT A DOG."
and you were like "It was actually really good!"
Friend:
I love how im so giving in your dream haha
lol wow
Me:
I was so mad
I was like, damnit we're not friends anymore
Friend:
note to self
never take megans dog and eat it
Me:
oh hell no
this was a stray dog and I was mad
you take MY dog and I kill you
mama's protective of her baby
Friend:
OM NOM NOM
By This Time Next Year...
By this time next year… I will have completed two successful semesters at UT with all A's and very few B's.  I will have had at least one session of dance classes. I will have learned to remix my own music as well as learn to live DJ. I will still be a radio dj for 90.3 the rock and possibly hosting a specialty show. I will have at least looked into internships from possibly...
If it's not been made obvious by now, I started Zoloft yesterday for major depressive disorder. It's seemed to screw with me, physically and mentally.  Besides the nausea, dizzy-spells and gagging I've experienced, I woke up in the middle of the night suddenly questioning every decision I was making…in almost every aspect of my life. I suddenly had a strong desire to...
"First, remember that style comes in all sizes, so the bigger you are, the more..."
– Those fashion tips are courtesy of noted style icon and total badass Miss Piggy. (via fuckyeahwomenprotesting2)
congress: hey mr. president we wanna censor the internet
obama: no you idiots i have to blog
Go to Tumblr to write down clusterfuck of thoughts and ideas… …reblog a bunch of shit instead.
BF: Now you just need an acoustic guitar
Me: fuck yeah
I'd be okay with this
BF: Megan Clifton, folk singer and personal chef for her bf.
Me: =3
.........wait
am I okay with this?
BF: LOPLOLOLOLOL\
I AM JK
Me: ......I am.....slightly....okay with this
BF: I'll take what I can get.
Me: the feminist in me is leery
but for the most part
not too many fucks
BF: The only reason I say stuff like that is because of the feminist in you
Me: you like to provoke it
like poking it with a stick
just to see how mad it'll get
but Issac
Issac......
......I ain't even mad
BF: I am a male chauvinist pig, rite
OH
WELP
YOU WILL BE.....
Me: come at me bro
BF: YOU WILL... BE....
Me: COME AT ME BRO
1 tag
Judgement
I was talking with a friend tonight and it has come to my attention that there are a lot of judgemental things being thrown around. Not particular directed at one person or another, and possibly not even coming from one person in particular either, but it got me thinking about the topic. Judgement. We make judgements based off what people look like. How they act. How they conduct themselves in...
1 tag
A Message about Suicide
I recently had someone approach me about a friend of theirs considering suicide. Having been on both sides of the spectrum, I wanted to share my story with them, but it was more or less resolved. In high school, I constantly felt like my life was hopeless. Almost a year ago, I came home for Thanksgiving break to the news that one of my good friends killed himself. I hated my life in high school....
9 tags
Great Minds Think For Themselves
Does anybody remember "Disney's One Saturday Morning"? It ran on ABC from roughly 1997 to 2002, with cartoons and various educational bits. One of my fondest memories was the "Great Minds Think For Themselves" segment starring Robin Williams as the Genie from Aladdin. The segment would start out with the age -old saying "great minds think alike" to which...
dont ever hesitate. reblog this.
Hotline: 1-630-482-9696
Suicide Hotline: 1-800-784-8433
LifeLine: 1-800-273-8255
Trevor Project: 1-866-488-7386
Sexuality Support: 1-800-246-7743
Eating Disorders Hotline: 1-847-831-3438
Rape and Sexual Assault: 1-800-656-4673
Grief Support: 1-650-321-5272
Runaway: 1-800-843-5200, 1-800-843-5678, 1-800-621-4000
Exhale: After Abortion Hotline/Pro-Voice: 1-866-4394253
6 tags
5 tags